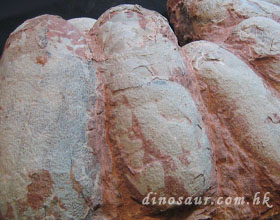 To make efforts in popularizing palaeontology knowledge in Hong Kong
Fossilshk.com is the first web portal about palaeontology in Hong Kong. Since 2000, we have been endeavouring to spread the knowledge of palaeobiology, provide an opportunity for the public to get in touch with diverse fossils and learn more about the history of earth as well as evolution of lives.
Fossils - books without a word
Fossils were bodies of organisms living thousands or even millions years ago. The bodies of lives were buried immediately after they passed away. Merely by multitudinous years of replacement and recrystallization reaction, fossils could just be formed. As our wordless books, fossils resembled to the windows of the lost world and showed us a vast variety of vanished creatures.

[New Added]
Mammal skull, Spider, Tadpole shrimp, Dino eggs, Croc skull, Large insect, Oreodont, Keichousaurus, Feather
EMAIL TO INQUIRE Cambrian explosion fossil